Zhenya won a prize "Crystal Ice" - thank you friends!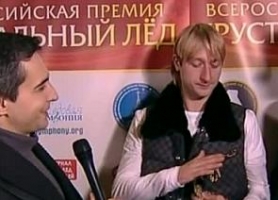 twitter.com/yanarudkovskaya/status/27752961727
Yana:
Zhenya received the award "Crystal Ice" in the nomination "Overcome", thanks to all our friends who voted for him !!!)))
twitter.com/Evgeniplushenko/status/27762150473
Evgeni Plushenko:
- hey, hoho, haha, ohoooo, thank you all for your support! I love YOU very much!!
- Thank you for yours tweets. We're leaving tomorrow on vacation in the Maldives.
- You know, this award is also yours. We earned it together.
- I so much want to perform for you in Sochi
VIDEO
:
evgeni-plushenko.com/eng/video/#video176
... more on forum:
evgeni-plushenko.com/forum/viewtopic.php