Yana Rudkovskaya and Evgeni Plushenko presented a new ODRI collection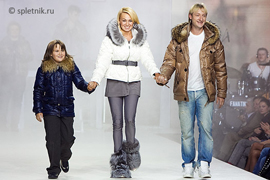 On April 8 in Gostiniy Dvor within the Volvo Fashion Week the most anticipated show was held. Star couple Yana Rudkovskaya and Evgeni Plushenko presented a new collection of feather designed specifically for the brand ODRI.

Yana Rudkovskaya and Evgeni Plushenko did not change their traditions and prepared a large-scale show for the guests. The fashion parade was held under live music of "FANATIKA", and during the show the viewers were amazed and shocked by the country's best illusionists - the Safronovy Brothers. Models emerged from a corporate package ODRI, from transparent flasks, and the culmination of the evening was a spectacular appearance on the podium of Jana, her son Kolya, and Eugene from a glass box smashed to smithereens.

Friends and colleagues came to support famous producer and the Olympic champion. They are Philip Kirkorov, Alexandra Savelieva, Julia Kovalchuk, Vyacheslav Manucharov, Yana Churikova, Ani Lorak, Ekaterina Odintsova and many others!
The show was supported by the Sorel brand footwear.