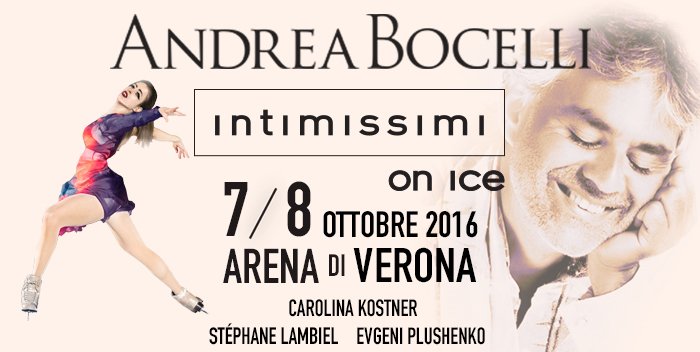 Intimissimi on Ice 2016

- Verona, Italy (2 shows)
07/08.10.2016, 20:30 Arena di Verona
http://www.arena.it/
official site:
http://www.operaonice.eu
https://www.intimissimi.com/custserv/cu ... imi-on-ice
Tickets:
http://www.geticket.it/en_us/show/Intim ... 76246.html
http://www.ticketone.it/biglietti.html? ... anguage=en
Cast
(for now):
Evgeni Plushenko
Carolina Kostner
Stéphane Lambiel
Kiira Korpi
Annette Dytrt & Yannick Bonheur
...
Andrea Bocelli
---------
About Plushy:
http://www.operaonice.eu/en/cast-opera- ... henko.html
http://www.operaonice.eu/it/protagonist ... henko.html
Intimissimi on Ice 2016
An incredible show with the finest figure skating champions set in the magic Arena di Verona and with the extraordinary participation of Andrea Bocelli.
Balancing between reality and dream, the show tells the story of Bel's fantastic day from sunrise to sunset and the meeting with her Hero.
The protagonists are the Olympic champions Carolina Kostner , Stéphane Lambiel, Evgeni Plushenko together with a rich cast of international talents.
"One Amazing Day" presents an entirely new scenography and stage along with costumes by Milena Canonero, winner of four Oscars.