I want to add two greek articles for Plushy because they are wonderful, all media of greece have gone nuts because they did not know about his return

http://74.125.113.132/search?q=cache:SliAvDA04KQJ:www.enet.gr/%3Fi%3Dissue.el.home%26date%3D27/01/2010%26s%3Dektos-synorwn%26c%3Da8lhtismos+%CF%80%CE%BB%CE%BF%CF%85%CF%83%CE%B5%CE%BD%CE%BA%CE%BF&cd=3&hl=el&ct=clnk&gl=gr&lr=lang_el
Still in Love with Ice
After the big Michael Schumacher comeback, the athletic world with the same surprise, joy and huge enthusiasm has welcomed the comeback of Evgeni Plushenko!
The Tsar of Ice with the unforgetable Tosca and the notes of Godfather and his sparkling costumes decided after 4 years of not competing, living a normal new life,to comeback and take what he deserves again, his 6th European Gold Medal, ten years after he won his first one.
And he won it again in an impressive way.. quad toe+3toe ...making a world record again of 91.30 points breaking his own record that he had made in OLympic Games in Torino.
27 years old today,
the Baryshnikov of Ice
not only did he win the European title again, but just as Schumaher,
he conquered the laws of nature and he won the bet against anyone who doubted him.
My mind was always in figure skating,
said the Tsar who is bound to win again the second Olympic Gold Medal of his carrier in Vancouver and just as like Michael Schumacher, he is the rarity and one of the phenomenal athletes that can come back without any rust no matter how many years have passed...
http://www.tanea.gr/default.asp?pid=41&nid=1097500
European Champion of figure skating :Evgeni Plushenko
The triumphant return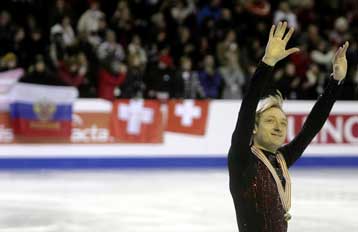 Ready to defend his title in Vancouver is Evgeni Plushenko who just won the gold medal in European Championship in Tallinn, Estonia.
The
Russian Star of the Ice
showed on last Thursday that despite his 3 years absence from competition, his technique is the most impressive. Even if he did a small mistake, doubling his triple lutz. "This is not an Olympic Performance" said the athlete making his own critique after his win.
Welcome back.